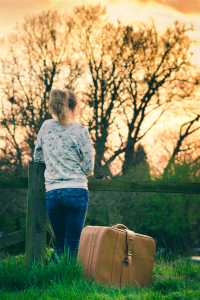 Every year when pilot season hits, there's a flurry of excitement about what to do next. As the self tape requests flood in, excited actors chance the idea of getting their O1 visas and making a break for Hollywood. Will they cross the shores or stay where they are?
I won't lie. I've considered it myself a million times. The glamour, the contacts, the red carpets, the studios. Who wouldn't want access to that. And truth be told, it's probably something I will work towards sooner or later.
I guess any move is the same. I did it myself many years ago by venturing all the way across to the other side of the world to hit Britain. Sure, it doesn't have quite the same pizzazz as LA, or the snowy sparkle of New York, but it's still a big city and offers much more of the big industry feel than I was finding available in my happy Brisbane surroundings at the time. And yet, with any move comes great expectations and equally, much fear and trepidation.
There are also some other minor (major) details that get left out of the gym locker conversations about moving continents to pursue an acting career. Some of these things impact a person so much more than they realise, and they really ought to be on the 'check list' when deciding if one is really ready to jump ship and live abroad. read more