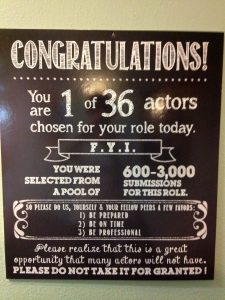 BACK IN THE DAY…
GETTING AN AUDITION DIDN'T FEEL LIKE WINNING THE LOTTERY!
QUESTION: Why is it more challenging to get an audition these days? When I first started out in SF, it was different. You needed a headshot, resume and an agent and I thought that was challenging, but I was auditioning all the time. Nowadays, it doesn't seem you need to be an actor nor have an agent to get an audition, it's a whole new kind of challenge, and now getting an audition feels like winning the lottery!
---
ACTOR: That's funny, yet I'm in agreement! I've been down this road many times and walking into this past audition, once again, confirmed I won the lottery when I read this congratulation sign posted on the casting director's wall.
The reason I believe it feels more challenging is because the market has been opened to everyone and anyone.