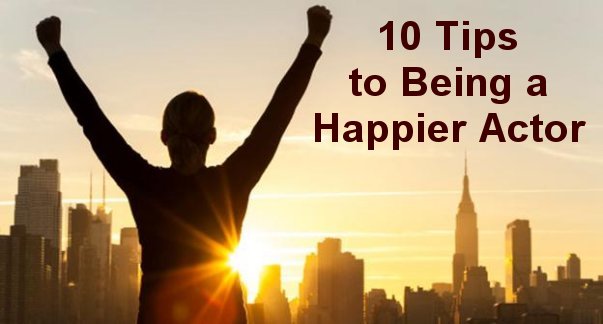 How can you be the happier actor? Possibly the happiest actor on Earth? (Planet domination of joy may be theme park hyperbole.) If we're to believe Irving Berlin, show people are deliriously happy—branded so in his jaunty show tune lyric, "There's no people like show people. They smile when they are low." Possibly the only show "people" who match Berlin's optimism are the saccharine animatronics singing at Disney's Its A Small World.
Actors endure more rejection per week seeking temporary employment than does a "civilian" hunting for permanent employment in a month. That's a lot of lows at which actors are to smile (thank you, Mr. Berlin). Yet actors push forward, actors seek coping skills, so as not be mired in the debris of rejection. The happier actors rise above the pile of dismissal. Atop the carnage, actors look out on to the horizon for what's next. How do actors keep their smile while facing adversity?
1. Equalize Auditions
Equalize all auditions with the same goal and manner of importance. Stressing more importance on one audition over another places unnecessary stress, worry, and anxiety on the actor.
All auditions offer individual opportunities for actors to show their skills with a spirit of fun—a period of control the actor owns. When placing all auditions on a level playing field, the lifelong career process of auditioning is no longer intimidating or a cause for worry. The audition is but a cog in the wheel of effectively pushing forward the machinery of the actor's industry.