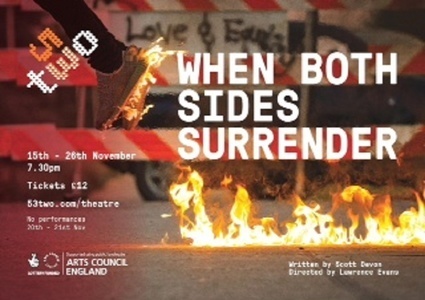 Off the corner of Deansgate, in the great city of Manchester, hidden away amongst the arches of old car showrooms, there seems to be an abundance of talented thespians making a racket. I blame 53two and it's seemingly never ending schedule of events taking the fringe community in Manchester by storm in its maiden year as an Arts Venue.
After birthing its own night of fleeting theatre, 'North South Shorts,' then becoming a temporary venue to the old power that is JB shorts, 53two has now played host to Scott Devon's poetically written When Both Sides Surrender.
---
The writing was described as Shakespeare meets A Clockwork Orange. I must start this review by conceding that I would not class myself as a fan of Shakespeare, however I am certainly a fan of Mr. Stanley Kubrick, so I had mixed feelings as I entered the theatre.
Richard Cooper and Kaeran Dooley should be proud, first for a wonderfully creative set incorporating a burnt out car, graffiti, battered steel, and decaying sofas that set the tone for the performance. Second, because these production aspects were matched in their quality by the costume and props, from the 'trackies' all the way to the police riot gear.