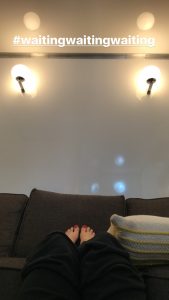 Hey Folks,
This month I wanna chat about Trailer Tension!
You're on a job, a big job that you've dreamt of, and worked your butt off to get. You've done all your work, your prep, got your hair and make up done, you're just waiting to get costumed, hanging in your trailer when 'bang' all of a sudden, you are completely paralyzed! Doubtful and terrified, wondering how the hell you got there, querying if the director (who up until now you thought was brilliant!) is insane because he cast you and now you're sourcing the nearest escape route!
WHAT DO I DO??!!! My usual solution of throwing on the trainers, getting my heart pounding and endorphins flowing is not gonna work because I'm wanted on set in 30 minutes and the make up team are not gonna be happy if you sweat off the hour of hard work just because you're nervous!